The baby boom generation was born between 1946 and 1964, and their large population is expected to double the number of retirement-age Americans by the year 2060. As boomers retire, increasing numbers of them are opting to age in place. Aging in place is defined by the Centers for Disease Control and Prevention as "the ability to live in one's own home and community safely, independently, and comfortably, regardless of age, income, or ability level." People may opt to age in place because of the physical and mental health benefits: Studies show that those who age at home are generally happier and may live longer. Aging at home allows homeowners to retain their most valuable possession and live with a sense of independence. Some must live at home due to a lack of other options, but overall, more seniors are electing to work until a later age and live at home for as long as possible.
There are many benefits to aging at home, but in order to enjoy these benefits, seniors and families must invest in modifications to make this lifestyle safe and convenient. Community and socialization are also important factors when aging in place: Seniors should have opportunities to interact with peers and access to organizations that will check up on their physical health and assist with other issues that might arise, such as transportation needs or learning to use technology.
Source: U.S. Census Bureau, Population Division. 2012. "Table 12. Projections of the Population by Age and Sex for the United States: 2015 to 2060 (NP2012-T12)."
Modifications to Allow Aging at Home
There is no escaping the fact that as people age, they will face physical limitations and impairments. For example, senior citizens are at a high risk of serious injury resulting from falls. Home modification techniques can prevent falls and debilitating injuries. While some may hesitate to install something like a home elevator, these additions become necessary if a person wishes to age at home. Some may wonder, "Are home elevators safe?" The fact is that an elderly person is far more likely to be injured on stairs or steps than in an elevator, and following a few elevator safety guidelines can make the experience nearly risk-free, especially when compared to the risks of climbing stairs.
A good starting point to prepare for aging in place is to fill out the checklist provided by the National Aging in Place Council. Once a plan is in place, attention can be turned to home modifications.
These considerations are a great starting point:
More windows for increased light
Remote-controlled blinds
Curb-less shower stalls
Lever-style faucet handles
Stair-less entries
Ramps or inclines
Widened doors or hallways
Lever-style doorknobs
Shallow, low-reach countertops
Slip-resistant flooring
Light-colored floors for improved visibility
Low placement of light switches or automatic lights
Multipurpose living spaces
Home elevators or stair lifts
Grab bars for the bathroom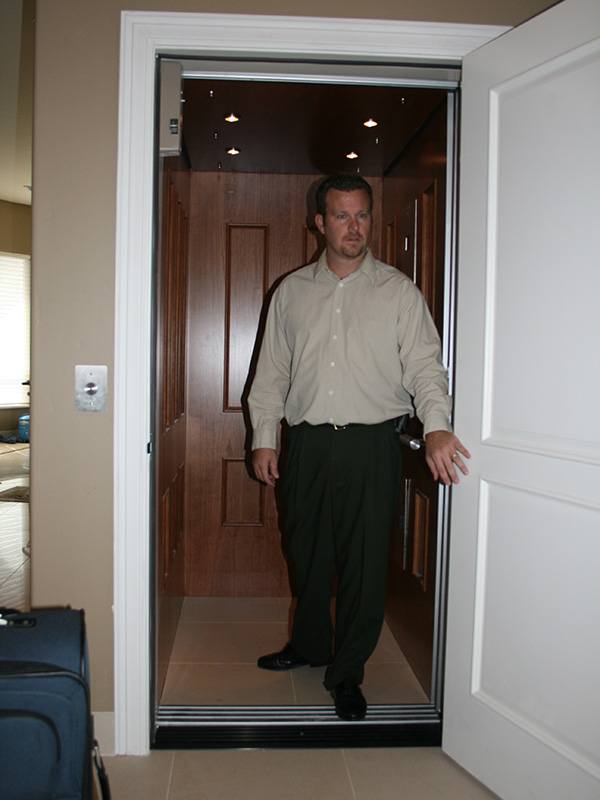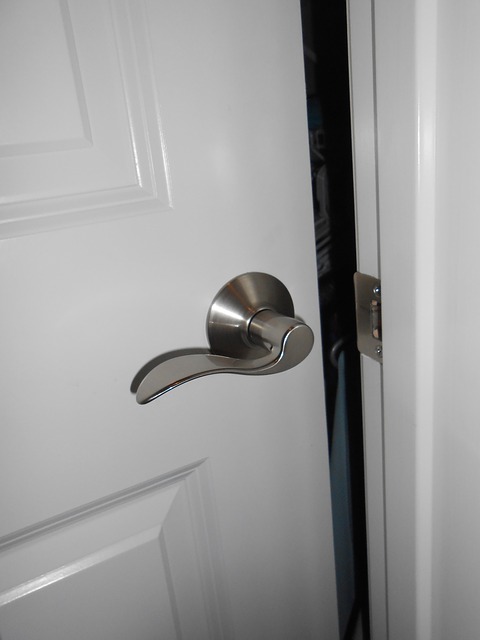 Particular attention should be given to flooring, bathrooms, and stairs. To avoid slips and falls, a safe option is a non-slip vinyl or bamboo floor. Old or shaggy carpeting can be loose and cause senior citizens to trip, and it can impede wheelchair movement. The bathroom is another high hazard area for falls and accidents. A walk-in shower or tub will decrease the chances of tripping by eliminating the need to climb over a wall. To save money, seniors can also install a safety bar and safety strips in the tub. Transfer benches are also a less expensive alternative that enables a person to ease in and out of a tub.
Stairs will result in the most dangerous falls, so proper modifications must be made to address this danger. Small threshold ramps can prevent tripping in doorways, and ramps can be used in place of smaller sets of stairs. For multi-story travel, nothing is more safe and secure than an elevator.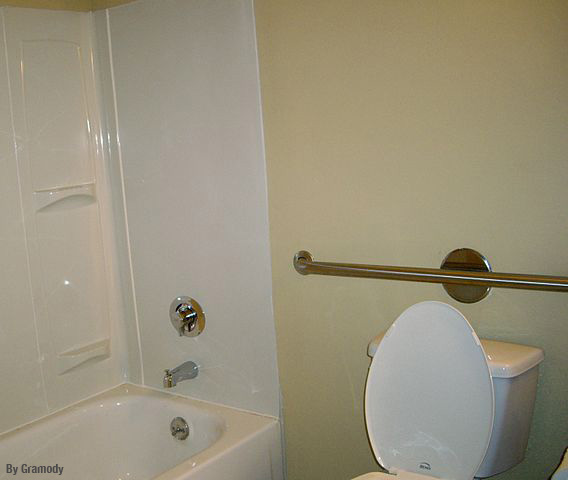 How Safe Are Home Elevators?
Some people hesitate to consider installing an elevator, wondering, "How safe are home elevators?" The truth is that home elevators are safe as long as regular maintenance is performed and elevators are operated as instructed. When most people imagine an elevator accident, they fear that the elevator will fall, but the invention of instantaneous brakes prevents this from occurring in modern elevators. The right lift or elevator can help those who are aging in place reduce stress to their joints from climbing a stairway while eliminating the risk of tumbling down a dangerous flight of stairs; they are truly an investment in safety.
Nationwide Lifts provides trained mechanics for all products to do regular maintenance work to ensure home elevator safety. Our team of professionals is available to answer any questions and ease your worries if you have been hesitating to purchase an elevator while wondering, "Are home elevators safe?" Ask our representatives about products that include the following features that can make your elevator safer:
Instantanious brakes
Emergency stop and alarm
Door interlock system
Battery-operated lowering and lighting
Hand-crank lowering
Although the staff at Nationwide Lifts can answer any of your questions and will educate you on the proper use of your elevator, you can also learn more from the homeSAFE campaign. This site was designed to help home elevator owners understand safety.
All elevators purchased at Nationwide Lifts include professional installation, which ensures that your lift will function as effectively and safely as possible. Regular maintenance from our team means that you won't have to worry about safety hazards. If you have small children who live with you or visit you often, talk to us about additional safety features and precautions, such as space guards and safe usage procedures.