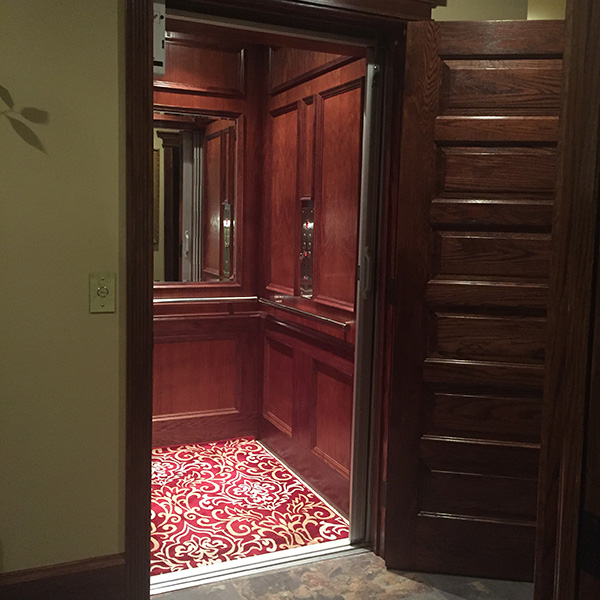 Modifying a home to care for aging family members or to accommodate family members who use a wheelchair requires planning, reliable technology, and a little creativity. To decide which accommodations are most appropriate, communicate with your loved ones to discover their needs, research what's available, and imagine what you might need to navigate the living space if you were wheelchair-bound or had other mobility issues. Home elevators for wheelchairs are helpful and often necessary in any building that has more than one story. Nationwide Lifts provides elevators for the disabled that meet ADA requirements to deliver safe and convenient transportation, and there are several types of home elevators for disabled people that people often choose, with the best option depending on the situation.
Helpful Lifts and Home Elevators for Elderly and Disabled People
Home Elevators for Wheelchairs
There are many solutions that will allow a wheelchair to move between different stories, including standard home elevators. As long as the dimensions of the elevator fit a wheelchair, any space can become more accessible with the help of home elevators. Handicapped people with impaired mobility can travel between floors in safety and with ease. The Freedom Series traditional elevators are designed to accommodate wheelchairs. The larger pneumatic elevator (Vision 550) and the Visilift elevators also are designed for wheelchair accessibility.
Wheelchair Lifts
Wheelchair lifts are limited to 14 feet of travel, but they are a simple and cost-effective way to move a wheelchair within the confines of that limitation. This short distance of travel means that the riding platform does not need to be enclosed like an elevator. Instead, there are 42″ high walls securing the platform. Wheelchair lifts are a quick and easy way to move a chair a short distance. For example, if a home has a front porch, a lift can easily move a wheelchair between the ground and the front steps. Inclined wheelchair lifts are ideal for pulling a chair up a main set of stairs. An inclined lift locks a chair securely on a platform and follows a track installed along the side of the stairs, lifting the chair upstairs smoothly and safely.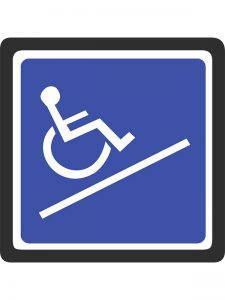 Ramps
The most simplified alternative to an elevator or lift is a wheelchair ramp. These are a good solution for very short rises, under 2 ft. The ramp must have a horizontal length of 1 foot for every 1 inch of vertical height. So a ramp with 36 inches or height, must be 36 feet long. This quickly becomes unacceptable. A wheelchair lift is usually more economical and takes up less space.
Other Modifications Around the Home
Elevators, lifts, and ramps can certainly solve mobility problems when it comes to navigating multiple stories and small staircases, but there are other safety concerns and impediments to daily living that a few other home modifications can address. These tools are particularly useful when it comes to caring for elderly loved ones, but anyone who has looked into purchasing home elevators for disabled people may want to consider whether these additional modifications are right for you, too.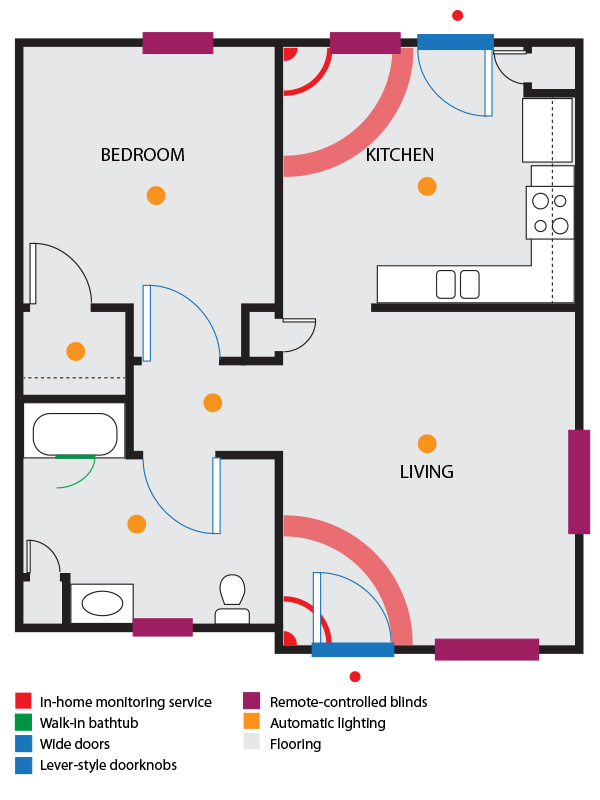 In-home monitoring service: These systems can save a life by aiding elderly people in the event of a fall or other accident. The device will allow for a fast and direct line to emergency medical services, and in some cases, they can also control burglar alarms, fire alarms, and carbon monoxide detectors from the same control system.
Walk-in bathtub: These tubs enable a person to get inside and out without climbing over a wall. Instead, they pass through a door that is self-sealing. Handlebars inside the tub help a person to maneuver themselves inside. Some tubs may have a low step on the bottom if they include a seat that allows a person to enter by sitting and pivoting their legs. Most walk-in tubs take up as much space as a standard tub.
Wide doors: People using a wheelchair or even a walker will find that they need wider doors in their home in order to pass through easily. This can be an expensive process that requires rewiring, reinsulating, and reframing, but this will make moving around the house much less frustrating for those with mobility impairments.
Remote-controlled blinds: Seniors in particular can be affected by the lighting of a room. Too little or too much light can cause eye strain, headaches, and a lot of irritation. People with mobility issues might have trouble opening and closing a traditional set of blinds and can benefit from being able to control their blinds via a remote. This may seem like an expense that isn't as necessary as other modifications, but imagine being unable to open and shut the blinds when you like. The goal of a home modified to accommodate people with disabilities is to remove as many limitations as possible, and this little fix can help increase a person's independence and comfort.
Lever-style doorknobs: These knobs are a cost-effective way to make life a lot easier. Sliding doors are very difficult to open and close while using a wheelchair or walker. Knobs aren't as easy to grasp and turn for those sitting low in a wheelchair and can be difficult to use for those who have arthritis or weakness in the hands. For outside doors, keyless entry systems can be helpful as well, since some seniors have difficulty with the fine motor skills required to use keys.
Automatic Lighting: Moving from room to room safely is much easier when there is proper lighting. Help those who might have trouble reaching lamps and light switches by installing automatic lights that will turn on when a person crosses the threshold. You might also consider sound-activated light switches for those who have difficulty with a traditional light switch.
Flooring: Flooring in a home that includes a resident using a wheelchair or walker should be made from laminate, vinyl, wood, or smooth tile. Plush carpets are very difficult to push a wheelchair or walker over.