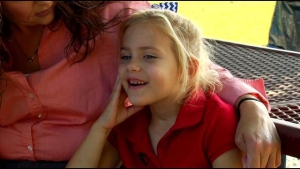 Addy Elkins, a second grade student at Columbia Academy in Columbia, Tennessee, was paralyzed from the waist down in a car accident in 2012. She had to go outside and drive her motorized wheelchair down a hill every day to access the school's lower level for physical education, music class, lunch, and computer class.
Addy won't have to do that anymore. A new elevator has been installed at her school to make the lower level more easily accessible.
The elevator cost about $60,000. The school raised money through months of fundraising efforts. Parents and classmates made generous donations. The school also received help from families and students at Nashville Christian School, which donated all of the proceeds from one of its performances of "High School Musical" last year to the "Up for Addy" campaign.
Addy was in junior kindergarten when the accident occurred. She spent over three months at Vanderbilt Children's Hospital and another six weeks at a rehabilitation center in Atlanta.
Addy also has respiratory problems. Going outside in the cold can make her sick and require hospitalization. Addy's classmates would walk outside with her before the elevator was installed to show their solidarity. Her parents tell her she is not disabled and that she can do anything that other people can do; she just has to do some things differently.
The newly installed elevator can also be helpful to other people with limited mobility who visit the school. Columbia Academy has almost 900 students from pre-k to 12th grade.
Residential Elevators & Lifts
Elevator Servicing & Education