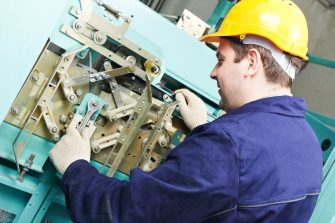 Elevator Repair Service
Is your elevator broken? Don't feel down. Nationwide Lifts is one of the top elevator repair companies in the industry, with the expertise to fix elevators that only comes from years and years of building them! We can offer assistance, quotes, and help today.
Get Rid of Out-of-Service Signs
When you suddenly need elevator repairs, it affects employees, customers, vendors, and visitors. We depend on lifts to make our lives easier. In many cases, we can't do without them. In other cases, when these out-of-order elevators seem only like an inconvenience to most of us, the building is no longer
ADA-compliant
. It becomes difficult to lift goods, carts, and heavy items from floor to floor. For those with a home elevator, repair services are needed to assist the person who needed the elevator in the first place. Allowing an elevator to remain broken without calling elevator repair companies to come and fix the issue is not only inconvenient for everyone moving in and out of the building but sometimes against the law, depending on the city or state you're in. Broken parts can corrode over time, and wear on the elevator can sometimes get worse. In addition, it's a liability for injured and elderly visitors.
Call the Experts
Landlords, business owners, and homeowners sometimes don't know who to call for elevator repairs, so they'll hire janitors, building managers, and other under-qualified people who are unfamiliar with the technologies to make quick fixes. We at Nationwide Lifts make, design, and implement elevators. We're the elevator experts! When you want an elevator repair company to come and fix the problem, why not contact the people who know how to build them? We're familiar with important codes, best practices, and structural needs both on a
commercial
and
residential
level. Calling on our knowledge and expertise will certainly lift your spirits! And if the elevator's situation is so bad that you need not only a fix but a
complete modernization and upgrade
, we'll be able to help with that, too. We can give you a quote, and you can purchase any one of our products to get your building up to code. As a professional network of experts and as an elevator repair company, we'll do what it takes so that you and your building's visitors can
ride safely
. Contact us if you need services for your commercial elevator, dumbwaiter, wheelchair lift, or home elevator. Repair services are available now; call or contact us online by clicking "get a quote" to get more information about an elevator repair office in your area. It's time to get rid of the sign and get your elevator working again today!