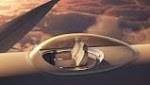 People who like to look out the window when flying on an airplane may soon be able to have an even better view than the pilot. Windspeed, an American aerospace technology company, has developed SkyDeck. Passengers can sit inside a transparent bubble-like canopy on top of the plane and look out as they fly through the sky.
Passengers can access the seats in the bubble by riding an elevator or climbing a set of stairs. Once they are seated in the canopy, passengers can rotate the single or twin seats up to 360 degrees. Windspeed says SkyDeck can be installed on aircraft with a variety of designs. It can be used with small private planes and wide-bodied commercial jets.
The canopy will be made of materials used in supersonic fighter jets that can withstand bird strikes and other stresses. It will have an aerodynamic teardrop shape to reduce drag. The canopy will be coated with anti-condensation film and a UV-protection coating.
Windspeed developed SkyDeck to improve entertainment on long flights. The company said it was inspired by the fact that in-flight entertainment options have not changed much in several decades. Windspeed says SkyDeck can provide passengers with experiential in-flight entertainment. It might also be used to generate revenue on commercial flights by charging passengers to ride in the seats on a pay-per-view basis.
The SkyDeck patent is pending. It has not been subjected to practical tests, but Windspeed believes the design is viable and will not affect the airplane's handling. There is no estimate on when SkyDeck might be available to the public.