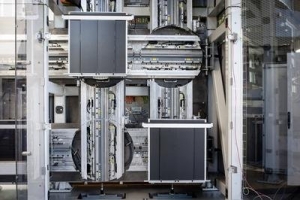 ThyssenKrupp announced a year ago that it was developing the Multi elevator system, which has multiple cabins per shaft that are moved with linear motors instead of ropes. It allows cabins to move horizontally and could dramatically change the way people travel in buildings.
Multi operates with a multi-level brake system and inductive power that is transferred from the shaft to the cabin. Several self-propelled cabins can operate in a loop, similar to a subway system. This can increase shaft capacity by up to 50 percent, which would make it possible to reduce the elevator footprint in buildings by up to half.
Since it requires smaller shafts than conventional elevators, Multi could increase a building's usable area by up to 25 percent. ThyssenKrupp believes this is important since elevators and escalators currently take up as much as 40 percent of a building's floor space, depending on its height.
Due to the increased efficiency of the elevator system, Multi could reduce the need for escalators and additional elevator shafts. This could significantly reduce construction costs and increase rent revenues, since more usable space would be available.
There are currently over 180 buildings under construction around the world that will be over 250 meters tall. About 50 are completed every year. There are also about 800 buildings under construction that will be over 150 meters.
ThyssenKrupp has created a 1:3 scale model at its Innovation Center in Gijon, Spain. The model has two 10-meter shafts with four cabins that move in a loop. It uses linear motor technology based on the system used in Transrapid magnetic levitation trains. CEO Andreas Schierenbeck said ThyssenKrupp is on track to make Multi a reality.