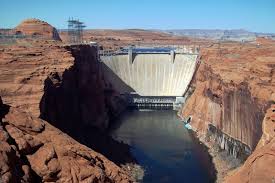 The Bureau of Reclamation has awarded a $2 million contract to modernize six passenger elevators at Glen Canyon Dam and Powerplant near Page, Arizona. The project will include improvements to the two elevators that connect the Glen Canyon Dam Carl Hayden Visitor Center with the top of the dam, two elevators that connect the top of the dam and the powerhouse, and two that connect the floors in the powerhouse. Reclamation employees and the general public use the elevators.
The elevators are original to the facility. The controls were modernized in the mid-1980s, but they are now obsolete. The elevators' mechanical parts need to be refurbished. Some system ancillary equipment, such as door opening mechanisms, has reached the end of its service life. The elevators are not compliant with the Americans with Disabilities Act. Updating the buildings and equipment will reduce the risk of mechanical failure.
Workers will replace the motor drives, elevator controls, and hoist equipment in all six of the elevators. They will also replace all wire ropes, traveling cables that provide electrical power to the elevator cars, communication, and main controllers. They will check the guiderails to make sure they are straight and rebuild the roller guides. Workers will replace elevator call panels and floor indicators and move some items to make the elevators ADA-compliant. They will replace all door equipment and modernize car and emergency lighting.
The work will be done within the next year. The goal is to have the modernization completed by the fall of 2016.
Commissioner Estevan Lopez said the modernization plan shows that the Bureau of Reclamation is committed to upgrading infrastructure and improving public safety. The upgrades will make the elevators compliant with modern building codes; improve equipment reliability, efficiency, and performance; improve pedestrian traffic flow; and make the facility ADA-compliant.
The Bureau of Reclamation is the United States' largest wholesale water supplier and the second-largest producer of hydroelectric power. It has operations and facilities in 17 western states. Its facilities also provide the public with flood control, recreation, and fish and wildlife benefits.
Residential Elevators & Lifts
Commercial Lifts
Elevator Servicing & Education